The wide variety of optics ( red-dots and scopes) and sights specifically meant for the AR platform can be overwhelming, so our staff picked 10 of the best options for your AR rifle.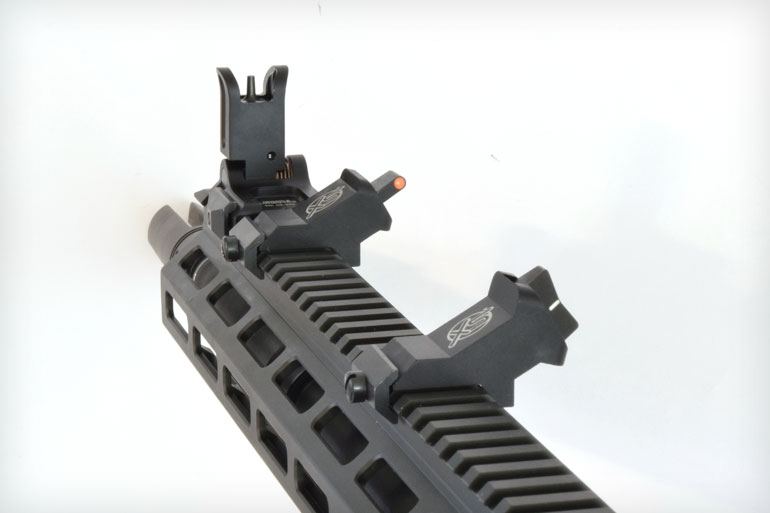 The AR-15 is easily America's most popular rifle. Upwards of 20 million of AR-pattern rifles have been sold in this country, and they're widely used for defense, competition and hunting. Most of these guns come with railed, flattop receivers, which makes it easy to mount a variety of optics. And when we say variety, well, there are now so many optics and sights specifically meant for the AR-15 rifle that it can be overwhelming. 
Here are some of our picks for options worth checking out. As usual, the prices are suggested retail and will vary widely. When they do, they're typically lower than what is given here.
Backup iron sights are considered vital by most AR shooters, and angled sights like these from XS allow you to use the iron sights without having to remove your optic—just cant the rifle and the open-sight system is immediately available. The XTI2 DXS (shown above mounted closer together than you would normally set them up, just for the photo) features a highly visible front orange dot that absorbs ambient light so it glows in low light or in shadow. The rear sight is drift adjustable and features a white stripe for fast acquisition and alignment. The bases are 6061 T6 aluminum and the sights themselves are CNC-machined steel. Will fit on all optics-ready ARs.
---
SIG Sauer Romeo 4T
If you're looking for a solid "head for the hills" choice, the Romeo 4T is right up your alley thanks to a dual battery/solar power source that promises a run time in excess of 100,000 hours. The non-magnifying sight is constructed of a durable, lightweight 7075 aluminum main housing, and it comes with a 1.4-inch riser mount and a co-witness spacers. It comes with SIG's circle dot reticle, and you can toggle the reticle to get four different versions of it. The sight offers 100 m.o.a. of both windage and elevation adjustment, all in a unit less than 3.5 inches long and weighing just 7.6 ounces. Waterproof to 20 meters, fogproof
---
Nightforce NX8 1-8×24 F1
Compact, lightweight scopes like this one from Nightforce are really versatile, and this one is even more so thanks to its combination of a daylight-visible red dot and a first-focal-plane reticle. Use the red dot for fast, close-up work or the reticle—available in 0.2 mil or 1/2 m.o.a. adjustments. The elevation turret incorporates a zero stop in case you have to dial up for a long shot and then go back down to your zero without worrying about losing count. Power adjustments are quick and easy thanks to a bult-in throw lever. The scope is just 8.75 inches long and weighs a mere 17 ounces. 
---
Trijicon MRO HD
The new Miniature Rifle Optic HD has a re-engineered objective lens for a more refined two m.o.a. dot and is optimized for use with the company's 3X magnifier (shown). The new design eliminates the tunnel effect common to sights of this type. An ambidextrous control selects not only brightness level but also allows the shooter to pick the dot reticle only or a dot surrounded by a 68 m.o.a. segmented circle. There are eight brightness settings: Two are night-vision-compatible; five are daylight; and there's a super-bright setting for use with weapon lights or when conditions are exceedingly bright. Built of 7075-T6 aluminum, it's waterproof to 100 feet, and chemical and corrosion resistant. 
---
Probably the biggest selling point for the AMG UH-1 is its night-vision capability. This holographic sight is designed for close-quarter use, and it delivers four night-vision-compatible settings and a dedicated night-vision button. It has a large viewing window, and the sight's EBR-CQB reticle is fast to acquire. Lenses are fully multicoated, and the design virtually eliminates stray light emissions so there's no forward signature. The sight weighs is 11 ounces and is just under four inches long. It offers 100 m.o.a. of adjustment and runs off a CR123A battery. Shockproof, waterproof and fogproof. 
---
Leupold VX-Freedom AR 6-18x40mm
Maybe defensive shooting or running around at a 3 Gun match isn't your cup of tea, and you want an optic that will reach out on the varmint fields without spending a fortune. This 30mm tube scope offers a top end of 18X and features Leupold's TMR (VX-Freedom) reticle, a mil dot design using hash marks instead of dots. It's not caliber specific, so it'll work for any hunting caliber once you figure out what the hash marks, which are spaced a half mil apart, mean for your trajectory at a given magnification. Side-focus parallax adjustment sets you up for precision at any range, and the company's Twilight Management System can extend your shooting day. Waterproof and fogproof.
---
Aimpoint CompM5s
Compatible with Aimpoint's 3X and 6X magnifiers as well as night vision devices, the CompM5s mounts on any Picatinny rail, and it ships with the spacer necessary to run it on an AR's rail. It features advanced optical lenses and a protective front window, and the dot is two m.o.a. for target engagement near and far. This rugged sight weighs just 8.3 ounces with the spacer, and it features a low AAA battery compartment for an alkaline or lithium power source—delivering more than 50,000 hours of run time. There are four night vision and six daytime brightness settings. Shockproof, chemical-resistant and submersible to 150 feet.
---
Sightmark Element Mini Solar Red Dot
Powered by a single CR2032 with the ability to run off a top-mounted solar cell, the Element delivers more than 200,000 hours of run time and doesn't cost a fortune. It features a three m.o.a. dot that adjusts automatically to light conditions thanks to Sightmark's Eclipse light management system. Flip-up caps come standard, as does a low Picatinny mount the company says is an "absolutle" cowitness with AR sights. The caps on the adjustment turrets double as adjustment tools.
---
Meprolight FRBS
There's no shortage of flip-up backup sights on the market, but this offering from Meprolight are self-illuminated thanks to tritium vials. These low-profile sights are light but durable, constructed of fiberglass-reinforced polymer and metal. The spring-based locking mechanism will not break or deform, and the sights adjust without tools. The FRBS comes with a 12-year warranty on the illumination. 
---
The latest addition to the Omnia line of scopes, which are built on an aircraft-grade aluminum 30mm tubes, features the company's ballistic-calibrated All-Purpose Tactical reticle. The reticle is located in the second focal plane and is glass etched, with a 12 m.o.a. illuminated ring with 11 brightness settings powered by a CR2032 battery for close targets. A crosshair located inside the ring offers aiming points from 100 out to 600 yards, based on the 55-grain XM193 load. The locking target turrets are set up for quick return to zero, and adjustments are 1/2 m.o.a. A one-piece aluminum mount for Picatinny rails is included.