Shotshell reloading is a well-established hobby, that is fun, satisfying and can save you money.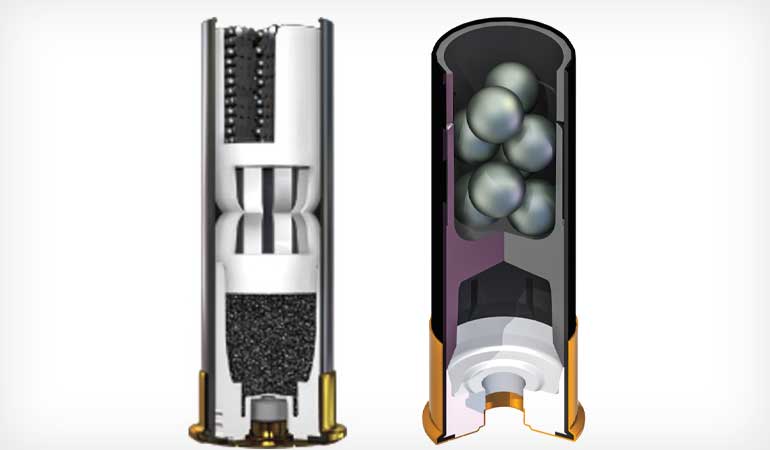 Shotshell Reloading Which are used  for Shotgun sports are as diverse and varied as metallic cartridge shooting. They include trap, skeet and sporting clays, as well as hunting game such as upland birds and waterfowl. Recent developments in shotshells and shot have led to performance in the field that far exceeds anything that existed even 25 years ago. Bismuth and tungsten shot dramatically enhance effectiveness and range. Wads provide better patterning and longer ranges. And, not to be ignored, big-­game hunters have benefited from rifled shotgun barrels and advanced slug and sabot designs that push shotgun performance to the near equivalent of centerfire rifles.
If you are a shotgun shooter and have yet to dip your toe into the waters of shotshell reloading, you are missing out on a rewarding and enjoyable activity. Shotshell reloading and related components are every bit as advanced and diverse as metallic cartridge reloading. It also offers the flexibility to tune a load to your needs, and the cost savings can be similar to loading cartridges. Let's explore what is involved in shotshell reloading and how to get into it.
There are three distinct types of shotgun loads: Pellets, or shot; slugs, i.e., a full-­bore projectile; and sabot rounds, i.e., a subcaliber projectile often with a plastic sabot.
The most commonly handloaded shotshells are those with shot, but both slug and sabot components have been made available for handloading recently. There are even reloading presses available for loading specific slugs or sabots. Modern shotgun hulls are extruded plastic tubes with a metal head that seals the base of the shotshell and provides a rim for the headspace of the shotshell. Shotshells contain a primer in the metal head, propellant, a wad or sabot and shot or a projectile. Figures 1 and 2 show the basic anatomy of a shot-loaded round and a sabot- or slug-loaded round.
The process of reloading a shotgun shell consists of pressing out the spent primer, sizing the metal head and plastic hull back to the original size, then recharging the hull with a new primer and propellant, inserting a wad, shot or sabot and projectile and crimping the round to return it to the original overall length. With proper equipment, the process is straightforward and safe as long as load recipes are followed exactly.
A few words of caution: Shotshells use, generally, very fast propellants and launch heavy payloads. Pressure variations with small changes in the hull, propellant, wad or primer can be significant. Shotgun safety margins on barrel burst pressures and case-­head strength are lower than for rifles or pistols. This is not to say they are weak or unsafe, they just don't have the same margins of safety as rifle and pistol designs. Do not deviate from published load recipe components or propellant charge weights! Shotshell reloading is not the hobby to get experimental with. If you follow load recipes published by propellant, component and reloading equipment manufacturers, there will be no problems.
Shotshell reloading begins with resizing the hull. The reloading press has a die and a decapping spindle. When the fired hull is pushed into the die, the plastic hull and metal head are returned to its original unfired dimensions. The decapping spindle pushes the spent primer from the hull. During resizing, the top of the hull that was deformed by crimping is also ironed out and straightened. A new primer is pressed back into the metal head of the hull. At this point, the hull is ready for reloading.
The next step in the process is recharging the hull with propellant. This is where shotshell reloading differs somewhat from metallic reloading. In shotshell reloading, propellant is dispensed from a replaceable bushing rather than a powder measure. Manufacturers of shotshell reloaders offer a range of bushing sizes to allow a range of propellant charge weights. Figure 3 shows a sample of propellant bushings. Refer to your specific manufacturer's bushing tables for the appropriate size bushings for the propellant charge weight you want. You should always check the charge weight that your bushing is throwing with a powder scale.
The next step in the reloading process is inserting a new wad into the propellant charged hull. As mentioned earlier, it's important you follow a specific load recipe and purchase the wads recommended. Make sure the wad you are using is rated to hold the shot weight that you want to load. When seating the wad, you must ensure that its seating punch is adjusted so that the wad is firmly pressed onto the propellant charge. You do not want the propellant to be loose in the hull; this can cause widely varying pressures and performance. You also do not want to crush the propellant, just check that the wad is firmly pressed onto the propellant charge.
At this point, the shot charge is dropped into the wad. In shotshell loaders, shot is dispensed either by a bushing (as discussed) or with a shot bar. Shot bars are generally sold for a specific shot weight. Make sure the shot bar throw weight matches what your wad and desired load are. Figure 4 shows a shot-­charge bar. It's a good idea to verify what your shot bushing or bar are throwing for weight with a scale.
The last step in the shotshell reloading process is to recrimp the case. The hull is pushed into a die that will recrimp the top of the case into a factory spec crimp. This die can be adjusted up or down to ensure that the length of the finished round is within factory specification. Ensure that you have the crimp die adjusted so that the crimp completely closes the top of the hull. If you don't completely close the crimp, shot may fall out of your loads. Afterwards, you have a reloaded shotshell that is ready to be fired.
If you are reloading slugs or sabots the process is virtually the same. Instead of inserting a wad and shot, either a slug or sabot and projectile will be pressed into the re-­primed and propellant charged hull. As with a shot-­loaded round, ensure the sabot is firmly pressed onto the propellant charge. Often with a slug or sabot round, a roll crimp is used on the hull rather than a star crimp. For slugs and sabots, reloading presses may be equipped with a crimp die to provide the roll crimp. Figure 5 shows six- and eight-point star crimps as well as a roll crimp.
Reloading Equipment
Several suppliers are available for shotshell reloaders. I recommend anyone new to shotshell reloading begin with a basic press. Avoid stepping into the hobby by buying a complicated piece of equipment with all the bells and whistles. Get the process and the procedures down before you go to a more complicated piece of equipment. Even the most basic reloaders will easily make 100 rounds per hour.
Both Lee Precision (leeprecision.com) and MEC (mecoutdoors.com) offer very good basic shotshell reloaders. Figures 6 and 7 show examples of each manufacturers' offerings. MEC also offers a line of progressively advanced and automated reloaders. Both companies' websites offer a huge amount of information, accessories and prices.
Several other pieces of equipment will make the reloading process safer and more consistent. A scale to check the propellant charge weight your bushing and reloader are throwing is a must. There are many inexpensive electronic scales available on the market. The other piece of equipment that you will need is a caliper for measuring the loaded length of your finished round. There are a number of inexpensive dial calipers available.
Components
You are likely to have problems deciding what specific components and manufacturer to use, more so than experiencing trouble finding components. A wide range of shotshell propellants are available from Alliant Powder (alliantpowder.com) and Hodgdon Powder Company (hodgdon.com). Propellants are also available from IMR Legendary Powders (imrpowder.com) and Winchester (wwpowder.com). Several special application propellants are available for steel-­shot reloading, too. Propellants for steel shot are heavily deterred and slower than standard shotshell propellants.
A range of wads are available for all gauges. Wads are offered to provide a variety of shot weights. Again, it is important to find loading data for the propellant and wad you are using. Different wad designs have different cushions and the cushion determines how much they will give or compress while protecting the shot when the powder lights.
All wads are not the same, even if they are rated to take the same shot weight. Using a different wad than what a specific recipe calls for can result in significantly higher pressures and produce an unsafe load. Special wads are made for steel shot. Generally, they do not have a cushion as all the volume is required to get the necessary shot-­pellet weight because of the lower density of steel.
There are many types of shot available in the reloading market. The shot number refers to the diameter of the shot pellets; the higher the number, the smaller the diameter of the shot. The smaller the size of the shot, the more pellets a given wad will hold. Shot size should be selected based on the size and toughness of the game you are planning on pursuing. Target loads use very small shot such as #7, #8 or #9 to maximize the number of pellets in a load and provide the best chance for a hit. Shot for hunting is matched to the size of the game you are pursuing.
There are a number of shot options out there. Lead shot is the lowest cost option and it comes in every size. In the middle of the shot spectrum is copper or nickel-­plated shot. These types of shot provide a much harder surface on the lead shot and prevent deformation during firing and improved patterning. They also provide better penetration because they do not deform and flatten on feathers. More recent shot options such as bismuth and tungsten are for high performance loads and lead-­free loads. Both of these types of shot have significantly higher density than lead, and give higher retained energy and shorter time of flight to longer ranges. These types of shot significantly extend the effective range of a shotgun and the terminal performance of the shot. Steel shot is also available in many pellet sizes for those who want to reload for waterfowl.
A number of primers types round out a shotshell's component list. They are available in standard and magnum output. The same rules apply to primers as to wads. All primers, no matter what they are called, are not created equal. Significant pressure differences can occur with primers that on the surface may appear similar. One last time: Follow the published reloading recipes exactly.
In Closing
Shotshell reloading is a well-­established hobby. A broad and complete offering of equipment and components are available from several manufacturers. If you are considering jumping into shotshell reloading, I'd urge you to take the plunge. It's fun, satisfying and can save you money.