The Wilson Combat QUELL Titanium rifle suppressor has been designed to be extremely rugged, and compact while offering exceptional sound attenuation.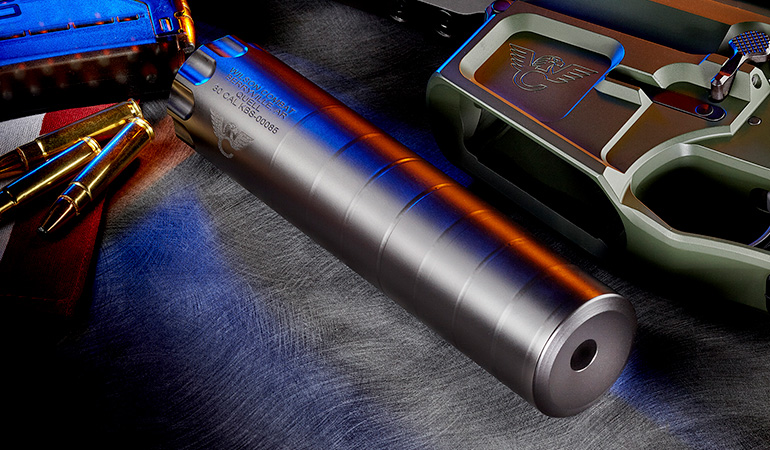 The Titanium lightweight Wilson Combat QUELL is an ideal lightweight suppressor for any non-magnum caliber carbine or rifle. The 6.9-inch long, 1.5-inch diameter, 9-ounce QUELL is built of 100 percent 6Al-4V Titanium and completely sealed with circumferential welds for impressive structural integrity. The QUELL is built in-house on 5-Axis, CNC machines to exacting tolerances resulting in a minimal shift in point of impact (POI, sub-1MOA) and a very low likelihood of baffle strikes.
The Wilson Combat QUELL "K-Type" fixed baffle stack has superb sound signature reduction and durability against the high heat associated with modern service carbines and high round-count precision rifle platforms. This robust construction allows the use of the QUELL in supersonic rifles, those with pistol-length barrels and standard caliber, precision bolt guns. The QUELL Titanium is an ideal suppressor solution when excess weight is an issue.
The QUELL "K-mount" muzzle interface is easily user-installed without shimming or indexing; the only tool needed for installation is a 7/8-inch, 12-point socket wrench. With the suppressor removed, the black nitride finished "K-Mount" will reduce muzzle flash comparable to an M16A1 flash hider.
Available in your choice of our heat resistant Armor Tuff finish color, the Wilson Combat QUELL Titanium Suppressor will set a new standard in hard-use modern service and sporting rifle suppression.
With your rifle unloaded and its barrel supported from twisting in a vise or with an installation tool, install the appropriate K-mount with finger pressure only to make sure it will smoothly thread. If the K-Mount screws on smoothly by hand, you can now install to 20 foot-pounds (max) using a 7/8-inch, 12-point socket attachment on a calibrated torque wrench inserted in the muzzle end. For a semi-permanent installation that also is heat resistant, apply Rocksett on the barrel threads prior to installation.
QUELL Suppressor Cleaning
The QUELL is a "sealed" suppressor and does not require regular cleaning other than an occasional soak in bore solvent or carbon cleaner of your choice, followed by compressed or canned air. Because the suppressor is completely sealed, it's not recommend lead projectiles be fired in the QUELL.
Wilson Combat QUELL Suppressor Performance
31.7 dB reduction (.308 Winchester, 16-inch barrel)
138.5 dB average at shooters ear
134dB at the muzzle per mil standard MIL-STD-1474D using a Bruel & Kjaer 2209 with a 4136 B&K microphone
Any item regulated and registered by the ATF as a National Firearms Act firearm may only be paid for with cash or check. No credit or debit cards will be accepted as payment for these items. Wilson Combat will only accept orders for National Firearms Act firearms in person or over the telephone. Firearms and suppressors regulated and registered by the ATF under the National Firearms Act will be transferred to the purchaser or a dealer in the purchaser's state only after the completion of all forms required by the ATF and upon notification by the ATF of its permission to transfer the item.